Many of today's trends in the private equity marketplace are centered around data and technology. Trending topics include how firms are able to access, use, and interact with data using more advanced technology in order to gain valuable insights about themselves, investors, prospects, potential investments, and the rest of their universe.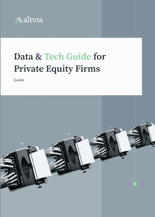 In this guide, you'll gain valuable insights into:
The current state of data and technology in the private equity landscape.
How to formulate an effective data strategy.
What to look for in a private equity technology solution.
How to differentiate your firm in the marketplace.
Download the guide to assess your private equity firm's data and optimize your technology programs.